Like most historical buildings in Barcelona, the Basilica of the Sagrada Família was originally designed to be built mostly with the most suitable stone available, in terms of proximity, strength and resistance to weathering. Chosen, in other words, for its durability. And all of these requirements were met by what is known as Montjuïc stone, as the outcroppings that have made it possible to quarry, for more than 2,000 years, are only found on the mountain of Montjuïc.
THE ONLY SEDIMENTARY ROCK OF ITS KIND IN OUR COUNTRY
Montjuïc stone is a type of sandstone. There are many sorts of sandstone from Catalonia available on the market, but Montjuïc stone is a siliceous sandstone. This means that most of the grains in it, as a sedimentary rock, are quartz, which is a silica mineral, as is the cement that binds them together. This characteristic makes it much more durable than the sandstone found in the rest of Catalonia, which doesn't have such a high concentration of silica in the quartz grains or the cement, as they are mainly calcitic.
Furthermore, another very important characteristic of Montjuïc stone is its chromatic variability, as it is found in a wide range of colours. So, there are stones that range in colour from whites to greys, reds, pinks, beiges and even blues.
Unfortunately, however, as the last quarries on Montjuïc closed in the 1970s, the Basilica can only continue to use this stone when it can be rescued from other buildings that are being torn down or from small stocks held by various companies and institutions for architectural restoration works.
THE SEARCH FOR A SIMILAR STONE…
This, therefore, is why we began using other stones in place of those from Montjuïc for the various stages of construction of the Basilica. This has led to an ongoing search for new stones that can reproduce the colour, texture, workability, chemical and mineral composition, mechanical properties and durability of the Montjuïc stone as much as possible.
In addition to all of these characteristics, the new stones must also meet the quarry supply requirements, as a huge volume of stone is needed to build the Basilica and it would be useless to find one just like Montjuïc stone if there isn't enough of it to meet our needs. This has been one of the bottlenecks that has often affected us most, and one of the ways we've been able to resolve the issue has been by incorporating a wide range of toasted fine-grain granites, as chemically and aesthetically they are nearly identical to Montjuïc stone, even if they differ from a genetic standpoint.
The search, in Catalonia, Spain, Europe and abroad, has yielded fruit and, so far, the stones used in place of that from Montjuïc are:
Fraguas stone: from Galicia. This is a toasted fine-grain granite that we no longer use because the quarries have been closed.
Moray or Clashach stone: from Scotland. This fine-grain sandstone comes in brown and pink tones. We currently use it selectively due to the limited output of the quarry.
Blavozy arkose: from France. This fine-grain to micro-conglomerate sandstone comes in grey tones. Like the Moray stone, we use it very selectively now because there isn't much left in the quarry.
Brinscall stone or British Beige: from England. This fine- to large-grain sandstone is beige.
Vargas stone: from Cantabria. This fine-grain sandstone comes in white and cream tones.
Silvestre Moreno: from Galicia. This is a toasted fine-grain granite.
Silvestre Fino: also from Galicia and, like the previous stone, is a toasted fine-grain granite.
The last four are the types of stone we are using the most now.
This ongoing search for new stones is still under way today, as the fast pace of construction sets a highly demanding target both in volume and quality of the stone needed. Therefore, we have to find new suppliers to meet these needs and avoid any issues that would make the stone unavailable, such as quarries running out of stone, decreasing quality or companies going bankrupt.
… AND OTHER, MORE UNIQUE ONES
In addition to the Montjuïc stone and its replacements for the main structural elements of the Basilica, there is also a whole series of stones with very specific characteristics that meet highly specific aesthetic, structural or regulatory needs, which must also be sourced from around the world. Here are some examples:
Brazil blue granite: from Brazil, used for its blue hue as a symbol of the purity of the Mother of God on the base and arrises of the tower of the Virgin Mary.
Red porphyry: from Iran. Because of its red colour, we use it as a symbol of the blood of Jesus Christ; plus, its hardness and strength make it perfect for the four columns on the crossing and the Basilica flooring.
Basalt: from Catalonia and Italy. For its hardness and strength, it is also used for some columns. Plus, for its dark colour, we are using it on the narthex cornice on the Passion façade as a symbol of the Passion of Christ.
Blanco Cristal granite: from Madrid. Its bright, white colour and great strength make it perfect for the core of the tower of Jesus Christ.
Ulldecona stone: this Catalan stone is used for the flooring inside the sacristy and the main nave, as well as on the roofs for its warm colours and strength.
Plus, we also use a wide range of granite from Extremadura (Quintana); Galicia (Silvestre Moreno and Vilachá); Catalonia (Ull de Serp); Brazil (Itaunas and Himalaya) and France (Tarn). All of these are used for their hardness and strength in the columns, flooring, stairs and pediments.
All of these stones can be found in the central towers. In fact, eight of these stones are used on the central lanterns: Vargas sandstone, Brinscall stone or British Beige, Blavozy arkose, Silvestre Fino granite from A Gudiña (Ourense), Silvestre Moreno granite from Guitiriz (Lugo), Crystal White granite from Cadalso de los Vidrios (Madrid), Red Yazd porphyry (Iran) and Brazil blue granite, from Itaju do Colônia.
Finally, there is a third type of stone used to a lesser extent, mainly inside or in protected areas of the Basilica. As they are not exposed to the weather, the requirements in terms of mechanical traits and durability are much lower than the previous groups, and they also have other aesthetic qualities for each use. In this case, we have the following stones:
Vilafranca stone (Catalonia): a limestone used by Gaudí on the Nativity façade. After the quarry closed, we replaced it with Calafell stone (Catalonia) and Capri limestone from Andalusia.
Floresta stone (Catalonia): used mainly on inner walls, windows of the cloisters and the sacristy stairs, as well as for various sculptures on the Nativity and Passion façades.
Sant Vicenç sandstone (Catalonia): used on some walls and the railings of the stairs in the towers of the Evangelists.
Several types of limestone and marble (Carrara from Italy; Blanco Macael, Andalusia; Mallorca Beige, Valencia; Colmenar, Madrid; and a long etcetera) are used to highlight certain architectural elements, like the stair railings and seats in the choirs, the crypt and the Passion sacristy, etc.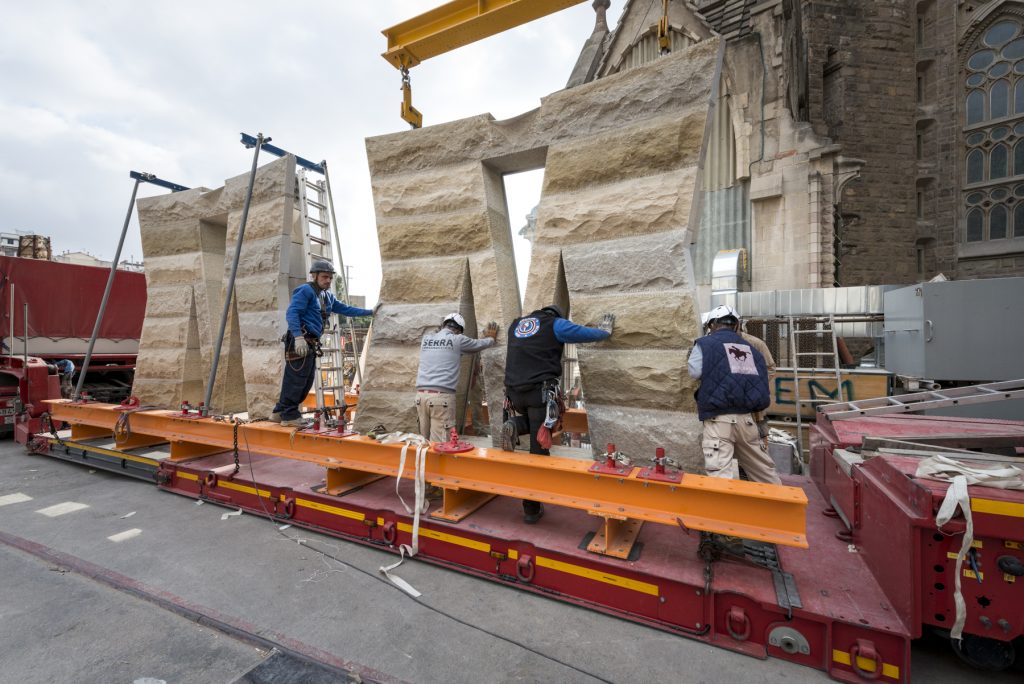 In total, some fifty different types of stone have been used to build the Basilica so far. And this is in no way a definitive number, as we are always working to incorporate new types of stone to complement the ones we are using now or fill new needs and for new spaces.