In his time, Gaudí predicted that "people would come from all over to see the Sagrada Família," and that the Temple would "influence art". And this has been the case for the over one hundred years the Basilica has been under construction. Throughout this time, the Sagrada Família has welcomed visitors who have been key to raising awareness of the Temple, especially its architecture, around the world. Plus, some who have come, very interested in the project, took pictures of the plans and models and this graphic material is part of what the architects who are carrying on the legacy of Gaudí's project have used to continue the work he began. Let's look at some of these individuals who have come from all over the world to become international ambassadors of Gaudí.
RECOGNITION IN THE WEST…
In May 1952, the 35th International Eucharistic Congress was held in Barcelona. More than 300,000 people took part in the event, putting an international spotlight on the city and, therefore, the Sagrada Família. So, just two months later, the pre-eminent art historian in the Anglo-Saxon sphere at that time, Nikolaus Pevsner (1902-1983), recognised in a series of programmes on BBC radio that the Sagrada Família "is fabulous, it is miraculous, it hits you hard", highlighting, among other elements, pinnacles "made of glazed fayence with an incredible technique," alluding to the trencadís. Pevsner, who hadn't included Gaudí in his seminal work Pioneers of Modern Design (1936), twenty years later recognised the great value of what he called "Gaudí's phantasmagoria". When he wrote The Sources of Modern Architecture and Design in 1968, he devoted several pages to discussing and praising Gaudí's work. However, he was in no way the first to recognise Gaudí's work on an international level. In 1950, Italian architect Bruno Zevi, a great theorist of modern architecture, published his book Storia dell'architettura moderna with a picture of the bench at Park Güell on the cover. Zevi defended Gaudí's organic architecture at a time when rationalism ruled. All of this was also happening at a time when a group of artists and intellectuals interested drumming up opposition to the works continuing was beginning to take shape in the Catalan capital.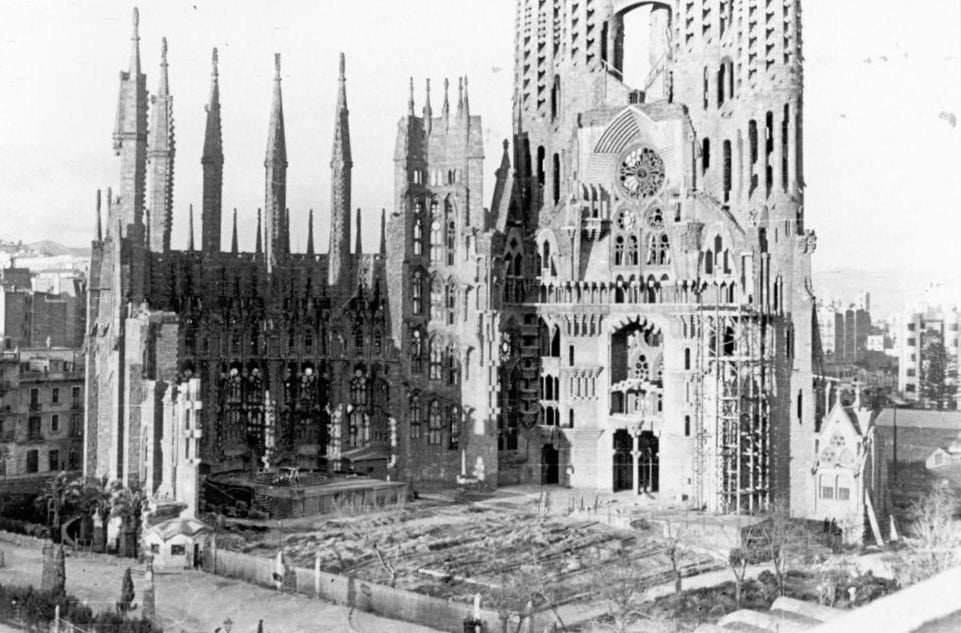 This critical local environment, on top of the post-war hardships and extreme poverty, made the day-to-day work difficult and hindered its progress. So, the recognition that came from the great exhibition on Gaudí held in Saló del Tinell at the Grand Royal Palace in Barcelona and the establishment of the Gaudí Chair at the Barcelona School of Architecture, in 1956, was essential to the Temple's continuity. Renowned Gaudí biographer Josep Francesc Ràfols (1889-1965) was its first director.
Ràfols' hard work to raise awareness in this academic setting soon bore fruit. Just two years later, in 1958, US scholar George R. Collins (1917-1993) visited Barcelona to learn more about Gaudí's work and, in 1960, he published Antonio Gaudí, the first serious study in English on the architect and his work. From Columbia University, in New York, where he was a professor, he was key in restoring Gaudí's international recognition. It must be noted, in this regard, that one of the construction techniques made popular by Gaudí, the Catalan vault, wasn't unknown in that great metropolis or in that country, in general, thanks to the work of Valencian architect Rafael Guastavino, who trained at the same school in Barcelona as Gaudí and designed works around the same time in the Catalan Pyrenees, also under the patronage of Eusebi Güell, as well as Grand Central Station, the American Museum of Natural History and the Boston Public Library, to give just three examples. He was, therefore, a good platform from which to speak to the world about Gaudí.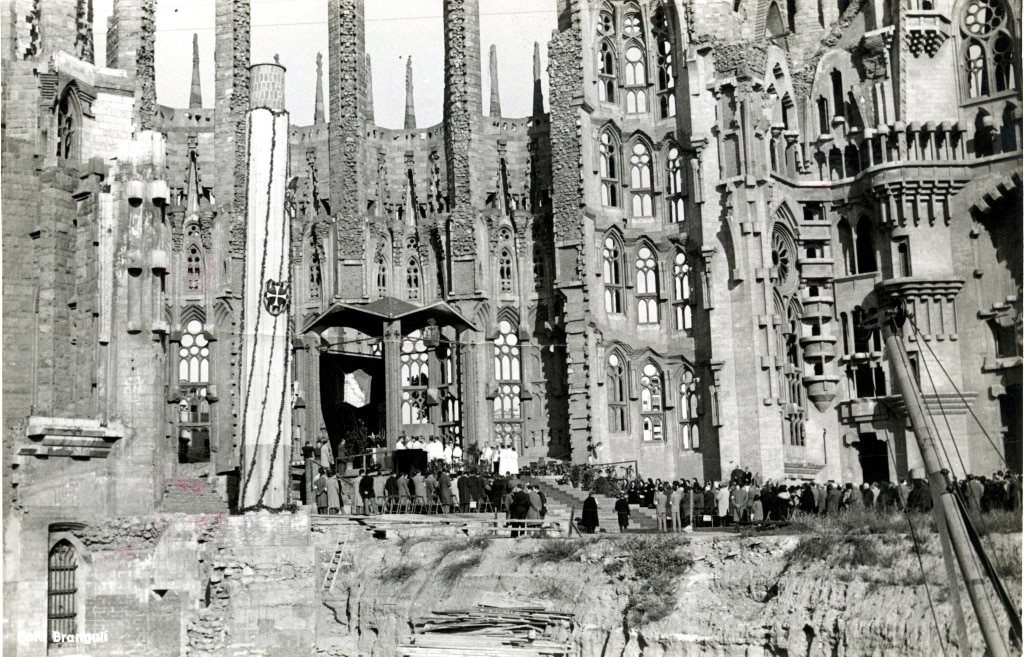 Some years later, Barcelona would recognise Collins' work, making him a member of the Catalonian Royal Academy of Fine Arts of Saint George and granting him an honorary doctorate from the Polytechnic University of Catalonia. In 1998, a street was named after him near Gaudí's Güell Pavilions in Barcelona's Pedralbes district.
We can also add to this list of international Gaudí ambassadors a Catalan man who helped further the knowledge, and recognition, of the architect of the Sagrada Família worldwide. We are referring to Josep Lluís Sert (1902-1983), the Barcelona-born architect who had marvelled at Gaudí's work from a young age. Sert trained in Paris with Le Corbusier and was exiled from Spain in the 1940s. He went on, however, to become dean of Harvard University. From this highly visible podium, his writings and comments spread the values of Gaudí's work at a time when he wasn't generally appreciated in his own land.
… AND IN THE EAST
So far, we've focused on the ambassadors in the Western world, but the dissemination in the East was just as important, led by one key figure: Kenji Imai (1895-1987). He was a Japanese architect who, after graduating in 1919, travelled to Europe in 1926 to study European metro stations and visit some of the most important architects of the time. On this trip, he met with Walter Gropius, founder of the Bauhaus school, and Le Corbusier, but when he arrived in Barcelona in September 1926, he found out that Gaudí, whose work he much admired, had died in an accident just months earlier, in June. Nevertheless, he visited the Temple workshop and deeply admired the project and the work on the Sagrada Família.
When he returned to his country, he became one of the foremost scholars of Gaudí in the world and organised exhibitions of his work and on his philosophy, which moved him so deeply that he converted to Catholicism and was baptised in 1948. He became a professor at his university and president of the Friends of Gaudí association in Japan. Some of his most noteworthy works include the St. Philip of Jesus Church in Nagasaki, part of an architectural complex commemorating the 26 Jesuit and Franciscan martyrs who were crucified on the hill above the bay in that Japanese city. This church, which won the Japanese National Architecture Award in 1962, has two tall bell towers that rise up into the sky like arms with open hands. Gaudí's influence can be seen clearly in their organic shapes and colour trencadís mosaics.