On 3 November, this blog will turn one. The date was already significant for the Sagrada Família because it was on 3 November 1883 that Gaudí was named the Temple architect. Now, however, we are also celebrating the anniversary of a communication channel through which we are explaining a project that is considered the great building and architectural challenge of our time. That's why, with the anniversary of these two milestones in the background, this time we decided to go back to Gaudí's time and talk about how construction was done then and how it was possible to begin building this Temple.
The first thing we have to consider, in this sense, is that the auxiliary equipment they used at that time wasn't very different from what had been used to build the great medieval cathedrals, above all in countries like ours where, although there were artistically important works, they weren't very tall. Elsewhere in the world, like the United States, construction was one step ahead and, since the end of the 19th century, they already had tools like steam cranes to lift large loads, given the need to start constructing very tall buildings.
It is commonly said that skyscrapers were made possible by the lift, meaning that until there was a vertical means of transport, from a functional standpoint, they didn't make any sense. So, in terms of construction, increasingly innovative means were needed to build them, above all in terms of lifting, such as cranes. Therefore, we can say that skyscrapers were also made possible by these tools, as without them they would have been very difficult to build.
Let's look, then, at how work was done in Gaudí's time and, above all, at the Temple of the Sagrada Família before the development of modern equipment.
1-CRANES: A PULLEY SYSTEM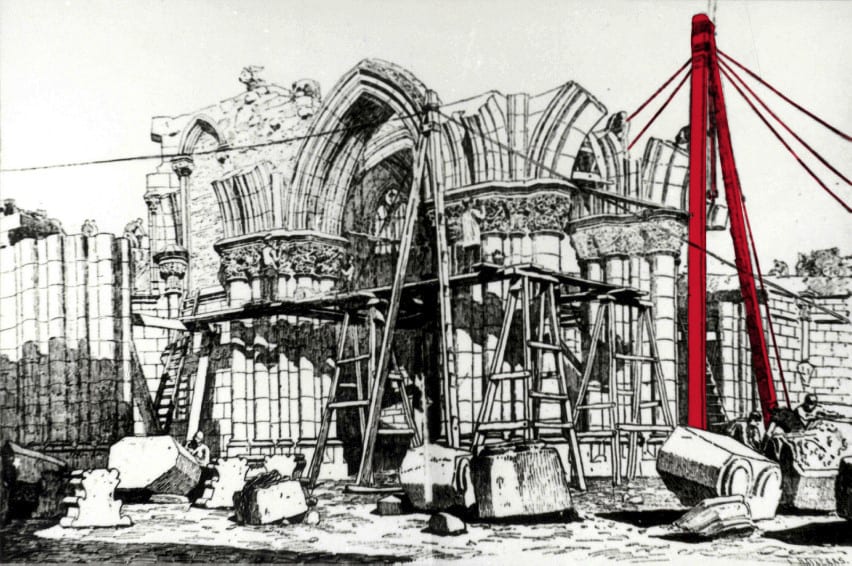 There's a drawing from 1892 in the Temple archives that shows several hoists being used while building the crypt of the Sagrada Família. This type of crane was first used by the Romans and, in some cases, could lift up to 2.5 tonnes. They had a wooden structure and a system of pulleys with ropes. When the Sagrada Família was being built, this type of hoist was also being used on the façade at Casa Milà (La Pedrera), from 1906 to 1908. The cranes used on this emblematic building were designed by Gaudí himself. We still have one of those used, on loan from the family of the builder, Josep Bayó i Font.
In those years, however, this crane had undergone a change: the structure was now made of metal. In fact, in the early 20th century, metal began to be used for the structure of many cranes that were previously made of wood. The Sagrada Família was a witness to this evolution and, therefore, to build the Nativity façade when Gaudí headed up the works, they used a mixed crane, with a metal jib and pulleys with chains that lifted loads to just over a hundred metres.
This pulley system would be used until the Nativity façade was completed in 1934.
2-SCAFFOLDING: MADE OF WOOD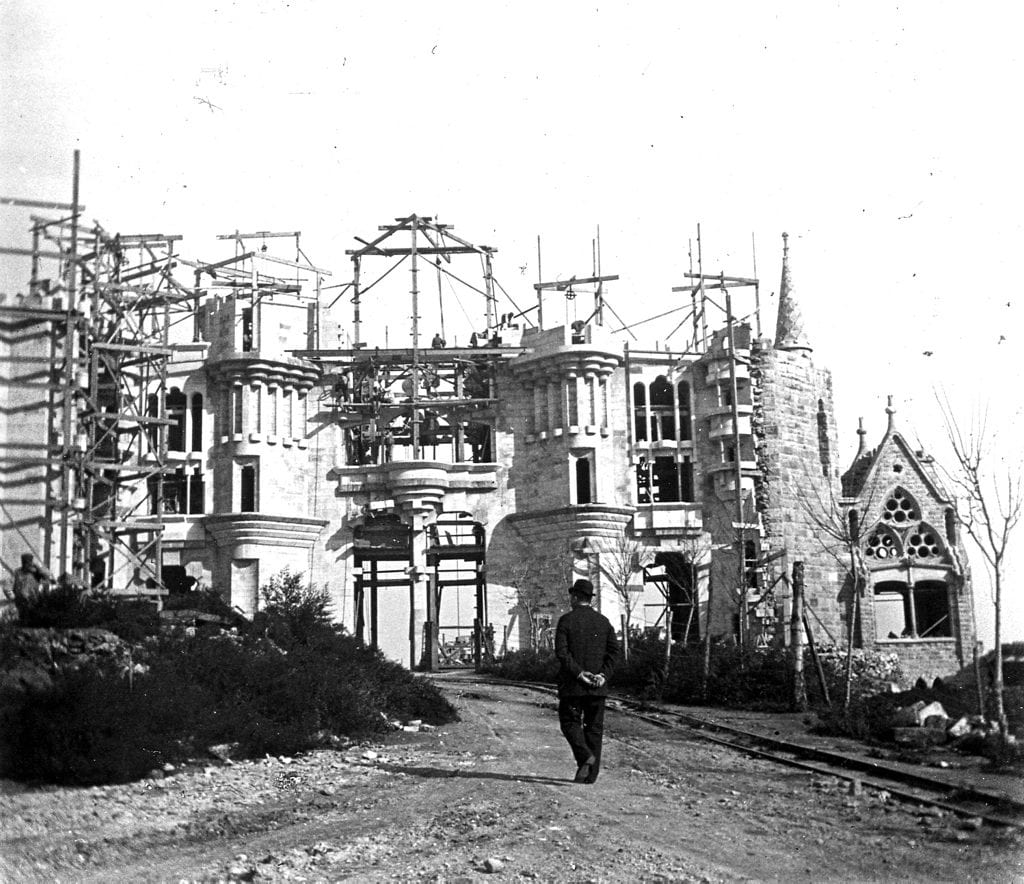 In Roman times, for tall buildings they used a scaffolding system that rested on the building itself as it was being built. At the Sagrada Família, in Gaudí's time, this type of scaffolding was also used. That is how they built the Nativity façade. In this case, the scaffolding was made of wood (now they are metal) and screwed onto the main crossbeams and nailed onto other secondary elements.­
3-BRINGING IN THE MATERIAL WITH RAIL CARTS INSTEAD OF CRANES
In construction at this time, the cranes being used didn't have very long jibs. So, the distance from where a load was picked up to where it had to be placed couldn't be very far. To resolve this issue, they often used equipment to make a load as light as possible on the ground. At the Sagrada Família, they chose to use little carts on rails that ran from the stonemasons' workshop to the base of the Nativity façade.
Today, this problem is solved with cranes that have long jibs. The largest at the Sagrada Família right now can pick up material within a diameter of 140 metres of its central axis. This is possible thanks to the very powerful machines available today and their extremely strong structures.
As a final conclusion, it is worth noting that despite the financial limitations on the Basilica works in Gaudí's time, it is clear that a lot of imagination went into the auxiliary equipment to make it possible to build something as complex as the Sagrada Família.